I sit writing this with pizza sauce still dripping down my cheek. I'm kidding, sort of. I did have pizza for dinner, two slices, but I didn't attack it like a ravenous beast. It was good, but not great. Does that mean this Whole30® thing worked?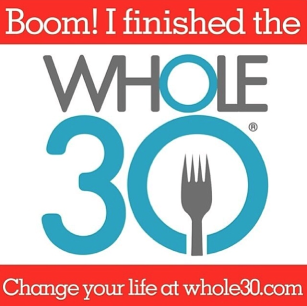 I really think it did. I am so much more aware of what my family is eating, and so much more aware of what is hiding in some seemingly "healthy" foods. I lost weight, just shy of 12 pounds, and I lost inches. But, the biggest accomplishment was far and away discovering my WILLPOWER! My lack of willpower around food could be a case study in how easy it is for someone to cave. My sweet tooth rivals no other. I honestly thought I didn't have the mental toughness to turn down sweets, but for 30 whole days I did! I didn't cave because "It's Valentine's Day" or because "It's just this once." These 30 days showed me I can do it; gosh darn it I'm proud of myself.
The plan moving forward is to keep mostly Whole30®/Paleo throughout the week. Mr. F and I really enjoyed the food and some of the new foods we started eating (roasted seaweed snacks, sign me up). I am already planning our second round in June.
If you are thinking about doing Whole30®, let me know! If I can do it ANYONE can; I'll be here to encourage you along the way.